Focus Essential Oil Roll-On Blend, 10 mL (0.33 fl oz) Roll-On
On-the-Go Aromatherapy for Mindful Meditation
Now it's easier than ever to experience clarity of mind and wholesome mindful meditation with our Focus Aromatherapy Roll-On! Refreshing and clarifying, this blend emits a scent that is woody and minty. We've combined our 100% pure lavender, peppermint, and rosemary oils in a base of sunflower seed oil for a truly unique aromatherapy experience that can enhance meditation.
Enjoy the benefits of aromatherapy anytime, anyplace with Piping Rock's collection of Aromatherapy Roll-Ons! Each roll-on features our finest quality 100% pure essential oils in a soothing carrier oil base, making it easier than ever to experience aromatherapy when you want it most.
Piping Rock's Promise:
We proudly offer you everything you need for an advanced, daily Aromatherapy regiment at the lowest cost in the industry! From Essential Oils to Carrier Oils, Diffusers to Blending Bottles, Beeswax, Books & more, we have you covered. With over 100 Essential Oils to choose from, you can create your own homemade scents and beauty products. Enjoy various blends & Essential Oils Sprays or experience our revitalizing, botanical Massage Oils!
Other Sizes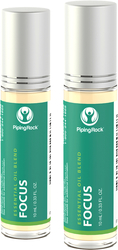 Related Products